About Me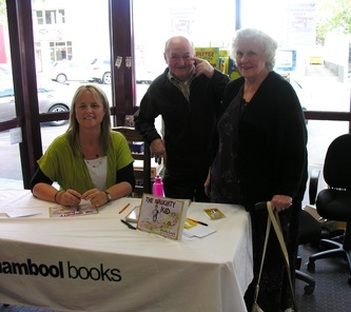 I grew up in the Western Suburbs of Melbourne, married and moved to Altona Meadows in 1997. We made the country change in 2010 to South West Victoria.

I'm Mum to 3 boys, Jack, Jarryd and Ryan. My eldest Jack, was diagnosed with ADHD in grade 1, 2005. I began to put pen to paper in 2006 when I saw how hard it was getting for Jack. Whilst he was getting about creating a little havoc himself many things were happening to him which made his life fairly difficult too. It was not my intention to write a book originally. I was at home with my younger 2, and I just kept putting bits and pieces down on paper over the following 2 years as different situations popped up. In 2008 I started to wonder if I would be able to help other kids with ADHD. I thought if children could see what its like to live with ADHD it may be helpful.

I went along to a seminar at the Victorian Writers Centre, had a professional assessment, and plugged away at making changes, adding pieces in and taking them out over the coming years.

Its fairly difficult to find a publisher who will take manuscripts unsolicited or without an agent so I started along the path of self publishing, it all sounded very scary.

I had a friend visit last year, I explained to her the next big step is publishing and how nervous I was. She said "Just do it", I gave a few buts and maybes, she just kept saying "do it". I emailed my manuscript to Kerry Collison at Sid Harta Publishers who has helped me get my book where it is today.

I've since got the bug for publishing books and have now started publishing my second book, My Very Own Alphabet Book.

Here's hoping my 'book bag' starts to empty out and some of these bits of paper turn into more books. What started as bits of paper being put into a bag could turn into anything,………..stay tuned.

2013 - My Very Own Alphabet Book was released in May. Now working on My Very Own Alphabet App. Hopefully it will be available from the App Store by the end of September.

January 2014 - My Very Own Alphabet App LIVE at the App Store.

March 2015 - My Very Own Alphabet App upgrade now LIVE at the App Store. Now includes an image gallery,........boy o boy what a job that was !
I now have a part time job in the Education Department so time is extremely limited. I don't get much time anymore for my projects. Working on Billy & Max kindle for the moment.

---

Many thanks to my husband and my boys who have supported me in these endeavors and tolerated me spending much time and energy on these projects.